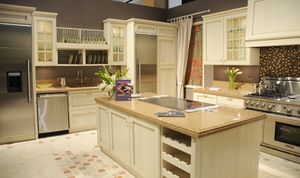 When remodeling a kitchen, there are simple tips you must consider. It involves replacing major appliances, installing new floors, replacing or re-facing the kitchen cabinets, and installing new countertops and others. It can be stressful because kitchens come in all shapes and sizes, but careful planning and budgeting can significantly reduce this stress. It takes careful planning and knowing where to spend money wisely. If you have decided to remodel your kitchen, here are the remodeling basics for you.
Planning
Planning is the first stage where everything else is built upon. If it is not done at all, the result can be unexpected challenges which may cause a lengthier and costly job. But if there is proper planning, there can be efficient remodeling, giving the customer a better product, at lower costs.
Adhere To A Budgeting
If you adhere to a particular budget, you cannot go to extremes. It is important to determine how much money you can afford to pour into your kitchen remodel because most people are in big debts from struggling to afford remodeling projects, so you must first examine the cost of your needs. Your budget should not just be exact to your remodeling project because unrealistic low budget can cause a lot of stress when you meet extra expenses you had not foreseen and if you take a loan, it is essential to take the one you can comfortably afford to pay back monthly.
Safety
It is important to remember safety guidelines to avoid any harm. You should wear boots, gloves and head wear because equipments can possibly fall onto your body. This area is certainly unsafe for children. Wires, studs and nails will be exposed everywhere and this will be potentially dangerous. Additionally, the work can get messy.
Construction
An essential consideration is determining whether you are planning to update a single part of your kitchen or if you want to make more drastic changes such as moving walls or adding more space. You must consider how much you'll invest in materials and labor, or whether you will do it yourself or hire a professional. You can also consider if you need the most eye catching remodeling, depending on the area and shape of the kitchen.
Plumbing
After determining your space, you may decide to relocate appliances, sinks, plumbing drains, fixtures or lighting which can be more costly. It can be great to have them ready for use once the wall is replaced.
Lighting
Good kitchen lighting is necessary and should complement the overall pattern, design and feeling of the kitchen. It provides quality working conditions in the kitchen and it can be possible to change it. Four main kinds of lighting which can be installed in the kitchen are task lighting, Ambient, Accent and decorative lighting. It is better to install the m according to the unique purpose of your kitchen. You can also change the electrical outlets and switch positions to suit your needs.
Countertops
When installing kitchen countertops, keep in mind that tiled countertops are good and cheap. Manmade materials such as Corian, Silestone or Formica are great but can be somewhat expensive. Your countertop should be fabricated by an expert for better results and they must be level enough that even an egg can rest on them without rolling off.
Cabinets
Kitchen cabinets are the most eye catching aspects in the kitchen used to create a whole new look in the kitchen. They are used to hold appliances, dishes, and food in the kitchen. You must understand various kinds of cabinets in the market because there are many different materials used to make cabinets to add different styles to the kitchen.
Flooring
Flooring is another great aspect in the kitchen remodeling which must match with the appearance of countertops and cabinets to add more texture in your kitchen.
Appliances
The choice of appliance is another great factor in kitchen remodeling. You must choose the best choice because there are numerous types in the market such as microwaves, ovens, stoves, cook tops, dishwashers, and refrigerators along with others. You must choose the brands with the best features and value for your needs.
Hiring A Professional
Hiring a professional can sometimes be precarious because there are a lot of formidable companies in the market. You must research for the best company with a good reputation. For Kitchen Remodeling Services in Maryland you can contact www.cicounters.com. It is better to hire professional, licensed and insured company for an exciting outcome.
Admire Your New Kitchen
At the end of kitchen remodeling you will be pleased with the new look. You will carry out the finishing touches, decorations and clean your kitchen to make it a unique place in your home. You must understand how to use your new appliances and how to take care for your new cabinetry, countertops and floors. Cheers!